One way in which I have been trying to branch out as a young professional is to develop my business skills. My fiancé offers endless assistance, for which I am grateful. I am also trying to seek out any resources I can utilize on my own.
Podcasts are huge for me right now. I am in the car a lot, driving from client to client to contra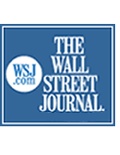 ct to client, etc. Perhaps it's my Suzuki upbringing, but I absorb a lot from listening to interesting content; I love to read, of course, but I think I gain more from the act of listening.
One podcast I've liked this week is Wall Street Journal on Small Business, which can be found here. The podcast is short and provides synopses of several pieces that are applicable to small business owners and entrepreneurs.