On Thursdays, I meet with my clinical supervisor via Skype. I always marvel at how much more clearly I can see my struggles while simply talking through them with my supervisor.
One of the bigger revelations I had during tonight's session had to do with structure in the context of process-oriented work. I have had a lot of trouble articulating this challenge to myself, really, but I've known for weeks that this was a big question I needed to ask. Finding a structure in this new approach I'm adopting is daunting, and it is in and of itself a process. But, I have some clients who are children and some who have a history of trauma who quite simply need more structure than some of my other clients.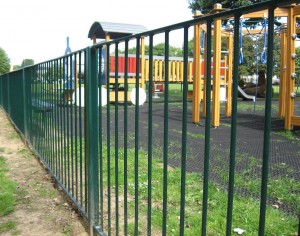 I don't know where, but at one point I heard this story that relates to this question about structure. In the story, there are two playgrounds with children playing on them. One playground is surrounded by a fence. The children in this playground are playing all throughout the space, even all the way up to the fence. The other playground has no fence. The children in it are all huddled together in the middle of the playground, because, supposedly, they do not know where their boundaries lie, and they do not know how they can reach them.
I wonder how you build structure in your session. Of course I do maintain a structure, it's just a little different than it has been in the past. Does the fence story resonate with you at all?